Understanding the e-commerce market will give you a good head start, but there are other essential things to consider before you start.
Having a well-thought plan helps you see the big picture – how do you envision your brand, who will you target, what would your website need, and your competitive advantages?
Analogically, if you don't focus enough on the essentials – meeting the growing customer demand and fighting off the competition will be next to impossible.
Here are the top five ways you can easily kill your e-commerce website project before it takes off, according to our source techradar.com:
1. Choosing the wrong hosting plan
Many startups go for shared web hosting, allured by its affordability and thinking their project is just starting anyways. In reality, the shared environment carries some inherent disadvantages, which can badly damage for-profit projects like online shops.
Shared servers often accommodate over a hundred users, all draining the same pool of system resources. As a result, even if your website is lightweight enough, it might still suffer from a lack of processing power or RAM.
The same goes with security – you can follow all website safety guidelines and utilize the best security plugins. Still, it wouldn't matter if another client on the same server left some vulnerabilities unpatched.
As dedicated servers might be a bit costly for startups and SMBs, VPS hosting is often a good starting point for e-commerce projects. Virtual server clients benefit from an isolated environment, dedicated system resources, and greater control over all aspects of their service.
The ability to scale resources up and down can prove extremely useful, especially in special promotions and marketing campaigns.
2. Choosing the wrong web building platform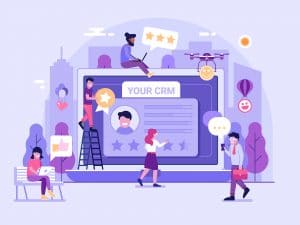 Another thing to consider from the get-go is the choice of a web building platform. There are more than a hundred e-commerce site builders out there, both hosted and self-hosted.
They seemingly have the same end goal – creating an appealing online store. But the devil is in the details, and that's why you have to do some preliminary research.
Take Magento, for example. One of the most popular e-commerce solutions out there, the open-source platform is powering some of the biggest retail and wholesale companies on the market.
But when it comes to small online shops that offer just a handful of products – Magento can be a bit of an overkill because of its overcomplexity and server resource demands.
When choosing your potential e-commerce building app, consider areas like the range of features, system requirements, theme and plugin variety, growth opportunities, and ease of use.
3. Slow or unresponsive website
Once equipped with the right hosting and website builder, you have to put all your efforts into optimizing your website to perfection. The online competition is fierce, and clients are naturally looking to get the best bang for their buck.
According to statistics, slow and unresponsive websites are one of the biggest turn-offs when navigating online. If your pages take more than 3-5 seconds to load, three out of four visitors will leave and probably never come back.
What's more, site speed is now proven to be an essential part of Google's ranking algorithms, so your search engine rankings highly depend on how well you optimize your shop.
It's a race for every millisecond.
Be it image optimization, browser caching, or performance plugins – web admins are doing everything they can to cut the loading times down to a minimum.
4. Difficult checkout process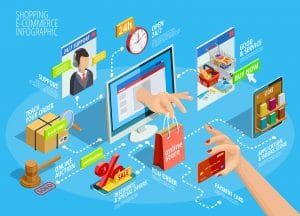 You have to ensure your website navigation and checkout process are as clear and straightforward as possible. Obstacles during the final steps of the purchase are one of the prime reasons potential clients are leaving your page.
Here are some of the top culprits that hinder your checkout process:
Too many steps
Too many fields
Forced account creation
Unnecessary popups and questionnaires
No inline validation (validity check after each field is filled in)
Ideally, your checkout process should be 1-3 steps maximum, requiring only the essential information you need to complete the order on your end.
This is the best shopping cart software for your website.
5. Not optimized for mobile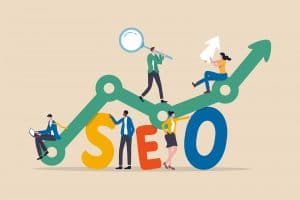 Any e-commerce store owner in the last few years will probably tell you the same story – traffic and sales from mobile devices are on a constant rise, and they have already exceeded those from desktop computers. In some niches, the difference is already 3:1 in favor of smartphone and tablet visitors.
Failing to optimize your e-commerce shop for mobile browsing is like shooting yourself in the foot.
There are two ways you can go about that:
It doesn't even matter what percentage of your visitors are currently coming from smartphones. The sooner you optimize your e-commerce store for mobile – the better.
"Communication is at the heart of e-commerce and community" – Meg Whitman Hewlett-Packard CEO
"Ecommerce isn't the cherry on the cake, it's the new cake" – Jean-Paul Ago CEO L'Oreal
"Optimizing the mobile cart and checkout experience is more important than tweaking your desktop design"
Linda Bustos
RELATED VIDEO PROGRAMS
SUPER AFFILIATE NETWORK REVIEW
Learn More about the Academy here: Click Here
RELATED VIDEO PROGRAMS
CRUCIAL CONSTRUCTS ACADEMY OVERVIEW AND REVIEW
Learn More about the Academy here: Click Here
The Crucial Constructs Academy is a Free Video Training Course Available only to our Readers and Subscribers.  A thorough and detailed training available to you.  Could you find out more about it here? Click Here
RELATED ARTICLES
TOP TIPS YOU NEED TO START YOUR ONLINE BUSINESS
At this moment in time, Jeff Bezos remains the richest man in the world, with his net worth assessed at nearly $200 billion. There is one fact that you might not know, he did not start his empire in Silicon Valley, but rather in his basement. Grasping the importance of technological advances, businesses now shift their focus to e-commerce. Online sales are no longer new, and they do make a good start.
The competition is even more fierce, now that people need no brick-and-mortar store to sell, so you had better be well prepared.
If you try searching "how to start an online business successfully," you will see hundreds of millions of Google results.
Google's algorithms certainly include a volume of irrelevant suggestions, but the first few pages already serve to answer your question.
Now, the main problem is, do you want to scrape through 50 or 60 web pages to do thorough research for useful information?
The common misconception we often have is that the top Google results are the most credible. That assumption is only partly true, as businesses utilize their blog posts to get money.
Therefore, they invest in their marketing strategies and search engine optimizations. Also, websites with higher traffic stand higher in search result pages. Popularity never stays equal to truth.
As you scroll up and down and read tons of new concepts and tips, you may get lost and unable to differentiate what is right or misleading. A lack of knowledge from the start guarantees a bitter end. Hence, you should find a mentor or a trainer from the beginning to draw out the strategies for opening and managing your online business.
It takes effort to do online businesses, so do not let those "get rich fast" people waste your time and money. Conveniently, we have reduced the hard work for you by summarizing the prospects you need to head for.
The hardest part is always the start. With courage and perseverance, you will make the change in your life. Step up and take some action!
Join Us Now on the Top Marketers 2021 Online Summit – Free Webinar!  Get Started
ADDITIONAL BONUS RESOURCES
These are some of the bonus resources that will be downloadable that you receive after joining. You will be notified how to pick these up from a specific download location after signing up.
These include Special Reports, ebooks, Ultimate Guides, and checklists.  They are usually in pdf format so that they can be viewed on any device.
1. Building the Perfect Sales Funnel
2. Business Branding
3. Creating Your First eCommerce Website
4. Facebook Marketing Mania
5. Essential Guide to Sales Funnels
6. Newbies Guide to Setting Up a Sales Funnel
7. The Quintessential Guide to Marketing Ads
MARKET TIMING AS AN ACTIVE INVESTMENT STRATEGY DOES WORK TO IMPROVE YOUR RETURNS
Our Special Report on Market Timing includes 10 sections about how savvy investors use Trend Investing and Market Timing to vastly improve their returns.  This report does not show you the step-by-step system but it explains what Market Timing is, and how when it is combined with Trend Following, Trend Trading, and Trend Timing you can vastly improve your returns.
You will learn
Reasons Why you need to Adopt A Market Trend Timing System
How a Market Trend Investment Strategy will allow you to Retire Years Earlier than you think you can
How Money Management Strategies are important for long term success
And you will get a little advice from the Father of Trend Following Systems
If you would like a copy of this Special Report as well as our Special Report on Trend Following Strategies please fill out the request below and we will send you a pick-up link along with some other strategies to know and understand before you select.
FINANCIAL FREEDOM STARTS WITH LEARNING YOUR OPTIONS